We have been busy dealing with constant plumbing emergencies
and have been out to emergencies in Farnham, Farnborough, Guildford and Woking
in the last few weeks as winter fast approaches.  We also carried out handyman work in
Windlesham by fitting together pre built flat pack furniture.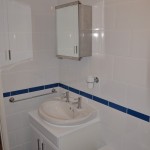 Through the course of  our work we have encountered people that have tried to do a repair themselves especially in the case of tap/showers cartridges.  These fittings are not always as straight forward a  job as they look and these cartridges are fairly expensive to replace if they get damaged.  There are few things you need to bear in mind and few things you need to know before proceeding with this type of job. One thing to be aware of is where are you going to find a replacement. They are not plumbing parts that you can normally find in your local DIY store. If you find yourself in this situation please give us a call as we offer free advise and are always happy to quote on jobs of this type.
With some of the repairs we are called out to deal with the
problem is because of incorrect fittings or inappropriate material that has been
used to complete a job causing future problems. To comply with current
regulations there are some fittings that you must use in certain situations to
avoid contamination of the water supply.