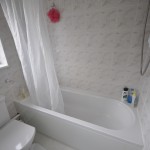 Recently we carried out a plumbing job at a church in Aldershot.  We had to install a floating ball valve in the head tank of an industrial heating system four metres high and access to the tank proved to be a safety issue. We had to find a safe way to gain access to the tank.  This involved going through a soft wall on one side of the tank to gain access to the valve.  Once there we discovered that the original pipe connection had been made  incorrectly so we had to find a new source of water to supply the tank.  This was done by fitting a new mains water pipe to fill the tank and replacement of the valve.  Before we carried out this job my customer had to manually fill the tank and with buckets of water to  keep the system running.
We have also refurbished a toilet/washroom in Guildford. We retiled the walls and floor and changed the toilet to a new design of toilet with a soft closing seat.  Please see photos showing our latest work in detail.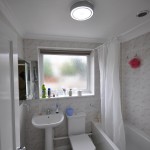 A plumbing emergency in Tongham meant having to sort out a
leak underneath a mobile home.  This involved intricate pipe work and a certain amount of patience and flexibility from the plumber.
A plumbing job in the Egham area meant adding 3 new radiators to an existing potterton combi boiler.  The customer didn't want to have visible pipes so we had to lift and cut some of the floor boards in order to make all the pipe connections underneath the floor.  This was a very successful job and looked neat and tidy at the finish exactly what our customer required.
We also painted the interior of a property in Guildford. Before the painting could commence the walls needed to be prepared to ensure a smooth and even surface for the perfect smooth and even finish.
When quoting for a job we offer quality products from our suppliers and in some cases this means having to lower our labour prices to stay competitive. We prefer this so that we can continue to work with high quality products and bring long term satisfaction to you our customers. Please note that we are happy to negotiate with you our customers and have plenty of options and different catalogues from various suppliers to make sure you get the best deal from all parties when looking at having larger jobs done like
that new bathroom or a refurbished kitchen.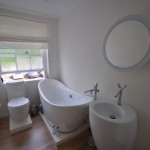 If you have a plumbing emergency, we cover plumbing emergencies in Guildford, Ash, Aldershot, Farnham, Woking and the surrounding areas. Please do not hesitate to call us, we will also endeavour to get one of our engineers to speak to you over the phone to offer advice if required to help control any leaks before they arrive.
We offer experience and consideration for our customers at Mr Repair and we now accept credit and debit card payments.